Secrets of the Lost Chords by Randy Thornton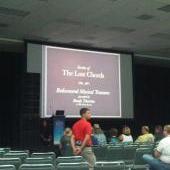 Last weekend, Disney's D23 hosted another D23 Expo. One of the many talks was hosted by the acclaimed Disney Records and historian, Randy Thornton!
The official D23 Expo description:

"Grammy Award®-winning producer and resident Disney music historian
Randy Thornton reveals some of the secrets behind Disney's Lost Chords.
Go on a musical journey as Randy tells the inside stories of songs written for
classic Disney films by legendary Disney composers (such as the Sherman
Brothers) that were essentially lost for decades—until now."